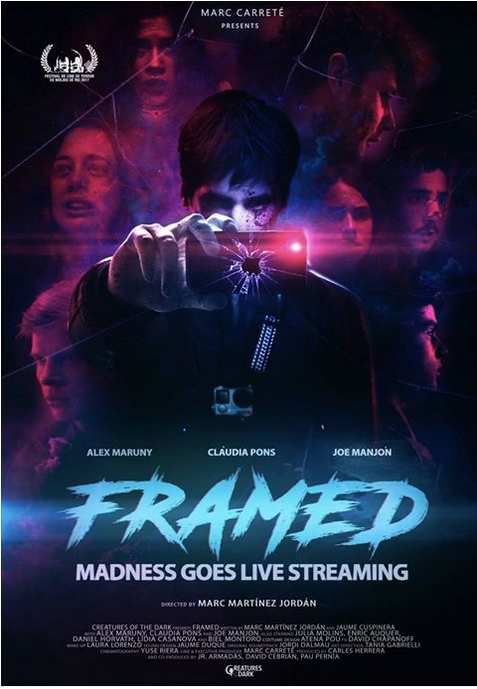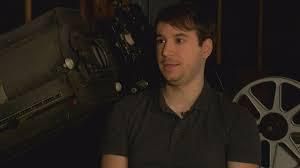 Meeting with the Spanish director Marc Martinez Jordan who has just made his first horror feature FRAMED :
Marc can you introduce yourself briefly? What drove you to the realization?
I'm Marc Martínez Jordán, I have 28 years old and live in Calella (a town near Barcelona). I
studied cinema at ESCAC (Escola Superior de cinema i audiovisuals de Catalunya) and I've
filmed two short films (Timothy and Horseface) and one long feature movie (Framed). As a
child, I was all day in front of the tv watching movies. I really fell in love with sci-fi and
horror movie genre. The Thing, The Shinning, Alien, and also Child's Play or Nightmare on
Elm Street are some of the films I adore and also got my childhood so traumatized. One of
the TV show I most enjoyed as a child was Outer Limits, a bunch of independent sci-fi
episodes.
We find in your two previous short movie Timothy and Horseface, characters with personality disorders. Is this a theme dear to you?
Exactly, personality disorders give us the chance of creating a specific point of view about
reality, or a story. Also, makes things easier if you want to distort the scene and boost
emotions in a kind of situation throw your characters. Mental disorders give us the chance
of watch reality throw a special lens, and I really believe it's necessary, sometimes best
way to understand your reality is releasing out the craziest part of you.
The main characters of these two short are hidden behind a mask. Can to see a critique of society in there? Are people hiding behind masks in society?
Well, in my case the using of mask was not related with any kind of social criticism.
Timothy was a psychopath, and like some of the most famous serial killers in cinema
history they usually hide behind a mask. Why? Because sometimes it's scarier imagining a
face than showing it. In Horseface, the main character brings a horse mask in order to
create more empathy with the audience. It's like the animation cinema, you feel the
characters are humans because they behave like such, however, there are not persons (it's
just a draw), audience has to bring humanity and empathy to the characters in order to
convince themselves they are humans, so I use this technique with Horseface. In animation
sometimes empathy it's easier, because audience complete the humanity of the
characters.
I have not seen your first horror movie Framed, whose pitch revolves around the influence of social networks and overbidding. Can you tell us where did the idea of the movie come from?
The idea came from watching in Youtube people doing weird shit in order to catch big
amounts of audience. The concept of turning yourself in something viral and how desperate
some people are to achieve that it's so fascinating that caught my attention very fast.
Besides, the idea catching audience via streaming let me film the most disturbing and
crazy scenes I ever shot before so as a director of a slasher movie is always grateful.
Did you have film references in mind for it realization?
The Purge, You're next, or the remake of Evil Dead were some of the movies I used as a
reference when I was writing the scrip or drawing the storyboard of Framed. This film is an
excellent exercise of how to use a single location (a house) to develop a story with a bunch
of characters on it. Besides, is remarkable the ability of this movies to generate horrifying
atmospheres so as a visual concept are also good references.
How did you find the financing of the movie? Did you know the producer Marc Carreté?
I met Carreté in the 2014, at the Transylvania International Film Festival. He got selected
his first long feature movie, Asmodexia, and I was competing with Timothy in a horror
short section. During these days both of us talk a lot about cinema and we realize how
similar goals we have as a filmmaker. So, a year after, Marc Carreté founded Creatures of
the Dark, a new horror indie production company based in Barcelona. I had the honor to
direct the first movie produced by this new production company, Framed. Now Creatures
of the Dark has done two movies, Framed and After the Lethargy, the second one is
directed and written by Marc Carreté.
Will Framed be distributed in France? In witch format?
Creatures of the Dark is actually working hard on international sales and film festival
distribution. My deepest desire is to be selected at Paris International Fantastic Film
Festival, if we can't achieve that, for sure Framed will be available in some VOD platforms
at the end 2018/ beginning 2019.
What are your future projects?
I'm developing two projects right now, but I can't tell anything about it yet. Maybe at the
end of this year I'll be able to talk more about this.
What are your three favorite directors?
Stanley Kubrick, Stanley Kubrick & Stanley Kubrick !
What are your three favorite movies?
2001 a Space Odyssey, The Shinning, and Child of Men are some of my favorite movies,
however, the official list is much longer.
Thank you Marc.
Marc Martinez Jordan filmography's:
- Timothy (2013).
- Horseface (2015).
- Framed (2017)
Thanks to Natacha Thomas.
Soon my review about Framed !
Mad Olive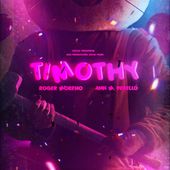 Critique du court métrage TIMOTHY de Marc Martinez Jordan (Espagne) - Le blog du cinema d' Olivier H
Critique du court métrage TIMOTHY de Marc Martinez Jordan (Espagne) : (Date de sortie : octobre 2013) Genre : fantastique / horreur Sujet : Sonia (Ann Perello) est la babysitteur de Simon (Roger ...
http://lecinemadolivierh.over-blog.com/2015/06/critique-du-court-metrage-timothy-de-marc-martinez-jordan-espagne.html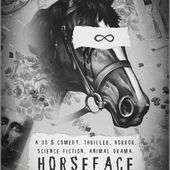 Critique de HORSEFACE (Caradecabello) de Marc Martinez Jordan (Espagne) - Le blog du cinema d' Olivier H
Critique du court métrage HORSEFACE (Caradecabello) de Marc Martinez Jordan (Espagne) : (Date de sortie : 15 janvier 2015) Durée : 8 minutes Genre : drame fantastique Sujet : un jeune homme (Marc...
http://lecinemadolivierh.over-blog.com/2015/08/critique-de-horseface-caradecabello-de-marc-martinez-jordan-espagne.html
Framed. 446 likes · 38 talking about this. Framed brings together the most common classic horror-film features with the unstoppable rise of newest social media networks.
Pour être informé des derniers articles, inscrivez vous :