Quelques titres de films en compétition à la 49ème édition du Festival International de Cinema Fantastique de Catalane, autrement appelé SITGES, qui se déroulera du 7 au 16 octobre 2016 ont été dévoilé :
31 de Rob Zombie (Etats-Unis)
Synopsis: Five carnival workers are kidnapped the night before Halloween. Now at the mercy of their captors, they are forced to participate in a macabre game called 31. For the next twelve hours they have to fight for their lives in order to survive an endless parade of homicidal maniacs, all lovers of chaos, pain and makeup. Terror has a name, and that name is Rob Zombie.
BEFORE I WAKE de Mike Flanagan (Etats-Unis)
Synopsis: Since the death of their son, Jessie and Mark Hobson have been going through a marriage crisis, until one day, they decide to adopt Cody, an adorable, clever little boy who goes to great lengths to get out of going to sleep. The Hobsons soon discover why: Cody has the ability to make his dreams come true. The problem is that not only do his sweetest dreams come to life... but his most feared nightmares do too.
CREEPY de Kiyoshi Kurosawa (Japon)
Synopsis: After an incident that sidelined him from the police force, Detective Takakura now enjoys his life as a professor. But an ex-colleague requests his assistance on a case, and Takakura finds himself drawn back into his old profession. While investigating a mysterious disappearance, his wife has to deal with a most creepy neighbor. The title says it all in this crime thriller that has the name of the most elegant director in the contemporary fantastic genre written all over it.
DESIERTO de Junas Cuaron (Mexique / France)
Synopsis: In Gravity, Sandra Bullock was forced to survive in outer space. In Desierto, Gael García Bernal has to escape the Sonora desert, where a vigilante who has set out to defend the United States from Mexican immigrants trying to cross the border decides to pursue him, rifle in hand, and with an unrestrained rabid dog. Jonás Cuarón turns this dusty thriller into a horror film.
DOG EAT DOG de Paul Schrader (Etats-Unis)
Synopsis: Aside from playing Mr. Blue in Reservoir Dogs, Edward Bunker holds the title of one of the most important crime novel writers, always on the side of realism. Schrader now adapts one of his books to experiment with a thriller and tell the story of three ex-cons from Cleveland's underworld who are hired for a kidnapping. When things go all wrong, the trio will do whatever it takes to stay out of jail.
PET de Carles Torrens (Espagne / Etats-Unis)
Synopsis: Winner of the Cine365 Award presented in Sitges, Carles Torrens has transformed the prize into a juicy feature length film, a psycho thriller that deals with issues like identity and loneliness. Seth and Holly, two lonesome people who have much more in common than they think. A dark love story that takes a look at how far we're actually willing to go in the name of love.
PROYECTO LAZARO de Mateo Gil (Espagne)
Synopsis: Barely thirty two years old, Marc is diagnosed with a disease and the prognosis is that he has one year left to live. Unable to accept his own end, he decides to freeze his body. Sixty years later, in he becomes the first man in history to be revived. It's then that he'll discover that the great love of his life, Naomi, has accompanied him all this time in a way he never expected.
PSYCHO RAMAN de Anurag Kashyap (Inde)
Synopsis: Inspired by Raman Raghav, an infamous serial killer in the 1960s, Psycho Raman moves the story to present day Mumbai, where psychopath Rammana pursues and spies on a young cop. As his obsession with the officer of the law grows, Rammana begins a perverse game where it's unclear who's the cat and who's the mouse. An engrossing thriller that has the name of the ultimate renovator of Indian cinema written all over it.
TENEMOS LA CARNE de Emiliano Rocha Minter (Mexique)
Synopsis: In an apocalyptic Mexico, Mariano spends his days distilling and guzzling alcohol at a house he intends to turn into a womb-like cave. When brother and sister Lucio and Fauna find the place, they ask Mariano to take them in. As the transformation of the house progresses, the man will initiate the two siblings into a sexual relationship. A mind-numbing debut, and a very dark allegory of Mexico.
TERRAFORMAS de Takashi Miike (Japon)
Synopsis: Back in the 21st century, the human race decided to begin a terraformation process on Mars, and a spaceship containing moss and cockroaches was sent to generate a suitable atmosphere. 500 years later, a group of people is sent to the red planet for the purpose of exterminating the cockroaches. The problem is that they've evolved... and they hate humans. Here's the new madness from Miike, based on a manga, and packed with insecticide-proof action.
THE GIRL WITH ALL THE GIFTS de Colm McCarthy (Royaume-Uni / Etats-UNis)
Synopsis: Most of humanity's feelings and will have been wiped out by a fungal disease, turning people into zombies. In England, soldiers have detained a group of children who are resistant to the infection and are being subjected to all kinds of experiments. Melanie is one of them: she stands out from all the rest, adores Professor Justineau... and appears to hold the future in her hands.
THE NEON DEMON de Nicolas Winding Refn (France / Danemark / Etats-Unis)
Synopsis: Angel-faced Jesse moves to Los Angeles with her sights set on becoming a model. When she finally makes it to the top, all she finds there is her peers' envy and her own paranoia, and what starts out as an extremely stylized neo-noir winds up becoming pure horror. Winding Refn made a film that turns the catwalks into a beautiful but sinister inferno: it's the nightmarish, gore version of the Calvin Klein universe.
TRAIN TO BUSAN de Yeon Sang-ho (Corée du Sud)
Synopsis: A renowned name in adult animated movies, Yeon Sang-ho takes the big leap to live action with a large-scale blockbuster. In it, we find a father preparing to accompany his daughter from Seoul to Busan on a train that will soon become their only refuge if they want to survive the horde of the infected. Beneath the muscle of a thriller mixed with zombie horror hides a social critique travelling full speed ahead.
De beaux titres alors que la liste n'est pas encore finalisée ...; cela promet une très belle édition en Catalogne !
A très vite pour la suite des infos ...
Olivier H.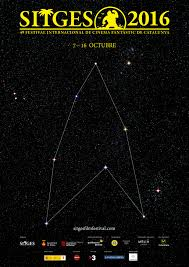 Pour être informé des derniers articles, inscrivez vous :