La 10ème édition du Toronto After Dark Film Festival se déroulera du 15 au 23 octobre 2015 au Canada.
La programmation officielle vient d'être dévoilé dans sa totalité ! La voici :
THE HALLOW (Ireland) Toronto Premiere
Par les producteurs de LET US PREY . After a young family move from the big city to a peaceful Irish woodland cottage, their dismissive attitude to folklore legends angers the local townspeople. It's not long before the family members find themselves in a desperate fight for survival in a prolonged confrontation with some vicious creatures lurking in the forest.
THE HEXECUTIONERS (Canada) World Premiere
De Jesse Thomas Cook (MONSTER BRAWL)
THE HEXECUTIONERS is a chilling new rural horror thriller with shades of cult classic shocker THE WICKER MAN. Two young nurses who specialize in treating the terminally ill are summoned to stay at an isolated mansion deep in the countryside. On their arrival, they encounter a series or bizarre and sinister characters including a hideously deformed old man with a terrifying dark past.
BACKTRACK (Australia) Canadian Premiere
After a series of unnerving ghostly encounters in the city, a troubled psychotherapist returns to his rural home town to try and solve the dark mysteries that date back to his childhood.
THE DIABOLICAL (USA) Canadian Premiere
Seeking help from her scientist boyfriend, they embark on a hunt to destroy the violent spirit that paranormal experts are too scared to take on.
GRIDLOCKED (Canada) Canadian Premiere
A group of deadly mercenaries led by Stephen Lang (AVATAR) attack a police facility with a sinister ulterior motive. It's up to a hardened officer (PRISON BREAK's Dominic Purcell) and his sidekicks that include Danny Glover (LETHAL WEAPON) and WWE star Trish Stratus to repulse the invaders using every weapon they can lay their hands on.
SHUT IN (USA) Canadian Premiere
PANIC ROOM meets YOU'RE NEXT in this gripping home invasion horror-thriller, full of shocks and surprises, from the executive producer of INSIDIOUS. After three criminals, including fan favourite Martin Starr (DEAD SNOW 2) break into a supposedly empty house, they find themselves in a deadly game of cat and mouse with the occupant, a shy young woman with a few nasty tricks of her own to play on the invaders.
NIGHT OF THE LIVING DEB (USA) Canadian Premiere
In this crowd-pleasing zombie comedy in the mould of SHAUN OF THE DEAD, the sleepy New England town of Portland, Maine awakens to an apocalypse of the undead kind. It's left to awkward local girl Deb, Ryan a guy she's just had an embarrassing one night stand with, and his eccentric dad played by fan favourite character actor Ray Wise (TWIN PEAKS) to band together to figure out how to defeat the blood-thirsty horde!
THE INTERIOR (Canada) Toronto Premiere
A unique blend of dark comedy and creepy horror, THE INTERIOR scored rave reviews on its debut earlier this year at the Fantasia Film Festival. Tired of the corporate life, a frustrated young office worker quits his day job and flees the city to go on a camping trip by himself, deep into the forest. His sense of tranquility is replaced by fear when it becomes clear that someone sinister is also out there, lurking in the woods.
THE HOLLOW ONE (USA) International Premiere
In this sinister supernatural horror-thriller, with nods to cult classic HELLRAISER, a discovered artifact unleashes a demonic force upon the people of a small farm town. With most of the townspeople turned into possessed minions, two young sisters find themselves in a race against time to try and stop the sinister force before its evil purpose is achieved.
DEATHGASM (New Zealand) Toronto Premiere & Closing Gala Film
In the latest crowd-pleasing horror-comedy from New Zealand that's taken the festival circuit by storm since its debut at SXSW, a group of metalhead outcasts unwittingly unleash a horde of vicious demons upon their sleepy suburban neighbourhood. Now they'll have to engage in an epic duel of blood and metal with Satan's hordes if they're to win back their town.
TALES OF HALLOWEEN (USA) Toronto Premiere & Opening Gala Film
Acclaimed filmmakers Neil Marshall (THE DESCENT), Lucky McKee (MAY), Darren Lynn Bousman (REPO! THE GENETIC OPERA), Paul Solet (GRACE) and many more team up to deliver 10 wickedly entertaining tales of terror all set on the same hellish Halloween night. The huge cast of fan favourites joining into deliver thrills and chills galore include John Landis, Adrienne Barbeau, Joe Dante, Barbara Crampton, Lin Shaye and Barry Bostwick!
LAZER TEAM (USA) Canadian Premiere
Web series gods Rooster Teeth (RED VS BLUE) hit it out of the park with their feature debut LAZER TEAM, a crowd-pleasing sci-fi action comedy. When Earth is threatened by an advanced alien race, the planet's only hope lies in four morons, the self-proclaimed "Lazer Team" and some high tech weaponry that's never been tested before!
NINA FOREVER (U.K.) Toronto Premiere
Winning rave reviews on the fest circuit since its SXSW debut, NINA FOREVER is a deliciously dark new horror comedy from Britain. A tormented young man tries to start a relationship with a supermarket co-worker while being stalked by Nina, his very jealous and very dead, ex-girlfriend. Recently awarded Best Feature Film at London Fright Fest.
A CHRISTMAS HORROR STORY (Canada) Toronto Premiere
A delightfully creepy, Yule-themed horror tale from the same talented team behind the GINGER SNAPS movies. Living icon William Shatner stars as local radio DJ Dan working the Christmas Eve graveyard shift, when all hell breaks loose around him in the snow-covered town of Bailey Downs. Santa's having the most terrible night of them all, having to fight off an outbreak of zombie elves heralding the arrival of his evil nemesis, the monstrous Krampus!
TAG (Japan) Toronto Premiere
From the warped mind of acclaimed Japanese director Sion Sono (SUICIDE CLUB, LOVE EXPOSURE, WHY DON'T YOU PLAY IN HELL) comes a shocking, satirical, horror-action-thriller about three Japanese schoolgirls in the race of their lives as they try to outrun a mysterious malevolent force that's brutally killing every girl around them.
LOVE & PEACE (Japan) Toronto Premiere
A wildly imaginative Japanese fantasy/monster movie mashup about a down-trodden office worker who aspires to be a rock star and his pet turtle who wants to grow up to be a giant city-destroying creature like Godzilla! Don't miss this one-of-a-kind cinematic delight from the eccentric mind of director Sion Sono (SUICIDE CLUB, LOVE EXPOSURE, WHY DON'T YOU PLAY IN HELL) that's rightfully winning Audience Awards!
THE DEMOLISHER (Canada) Toronto Premiere
A hypnotic, dark, award-winning thriller about a mentally unstable vigilante, The Demolisher, who deals with his personal frustrations by donning a suit of body armour and prowling the streets at night, delivering brutal justice to those he feels deserve it. The film's atmospheric nocturnal city landscape is superbly enhanced by a fantastic synth score from Glen Nicholls aka Future Funk Squad!
SYNCHRONICITY (USA) Toronto Premiere
From Jacob Gentry (Sundance hit THE SIGNAL) comes another smart, dark, sci-fi thriller, this time heavily influenced by the noir ambiance of BLADE RUNNER. A brilliant young scientist tries to crack the secret of time travel whilst thwarting the advances of a sinister corporate leader (portrayed by fan fave villain Michael Ironside), while falling for a mysterious woman whose suddenly appeared in his life.
PATCHWORK (USA) International Premiere
A delightfully dark, Frankenstein-themed horror comedy about a re-animated corpse, made from the stitched together body parts of three murdered young women, that decides to go on a bloody quest to find their killer and avenge their deaths!
28 SHORT FILMS ANNOUNCED!
SHORTS AFTER DARK: 9 incredible International Short films will screen this year as part of the popular international short film showcase: AWESOME RUNAWAY, BLACK FOREST, BONIATO, EXORDIUM, MANOMAN, MOVIES IN SPACE, MYRNA THE MONSTER, THE GUESTS, VICIOUS
Olivier H.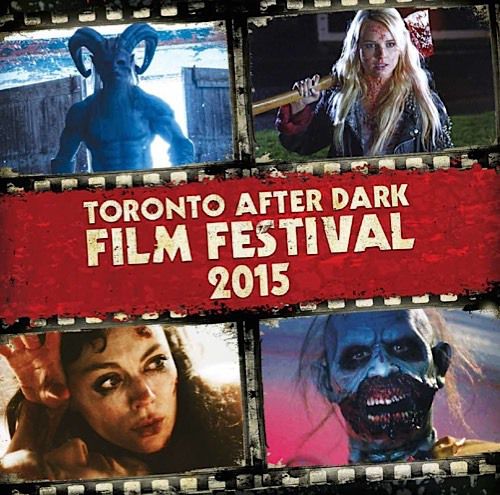 Pour être informé des derniers articles, inscrivez vous :